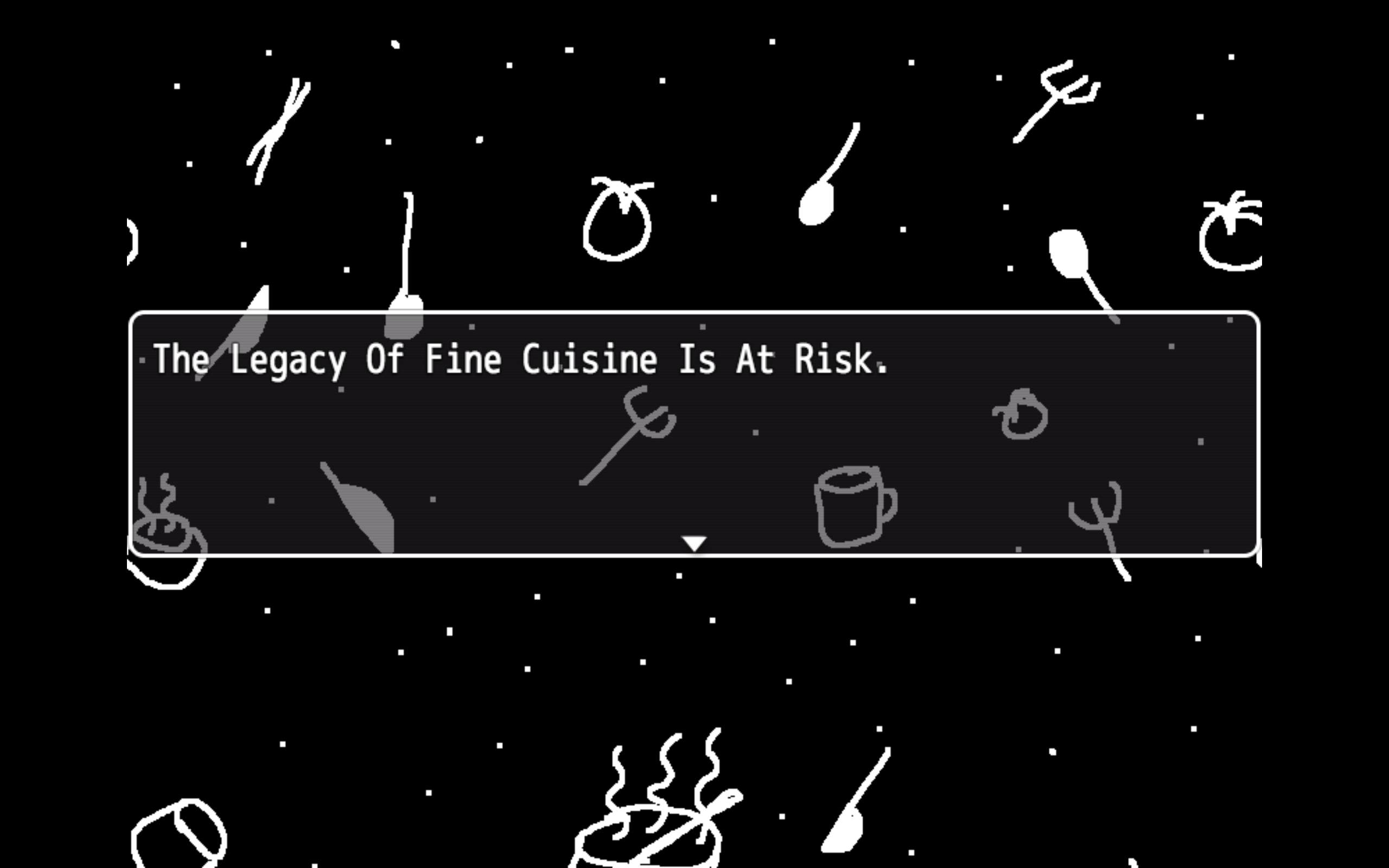 The Journey To El Pasta (DEMO)
A downloadable game for Windows and macOS
This game is still in development. Any advice/criticisms would be appreciated!
Please point out any Bugs you find! Thank you!
The Year is 20XX. Fast Food dominates the world. The last artisans of fine cuisine take refuge in a nation known as El Pasta. It seems that fine cuisine will die forever....
Our young protagonist, Ramsay, heads to El Pasta to become an apprentice to one of the most famous Chefs of El Pasta, Boy R. Dee. He hopes to show his native land the wonders of Fine Cuisine.
In El Pasta, flags are unfurled, and drums beat. Chef Boy R. Dee gathers an army of the best cooks known to mankind. As Fast Food envelops the last vestiges of the world, the cultured of all nations gather on El Pasta and declare war against Fast Food.
THE BATTLE TO DETERMINE THE COURSE OF CUISINE BEGINS!


Cooking RPG! Defeat enemies by making them satisfied with your food!
Every time you serve a dish, the customer criticizes you, lowering your self confidence. You lose if you run out of self confidence (SC).
Pick from 5 different food types to serve:
Salty, Sweet, Sour, Bitter, and Umami.
Each Customer has their own preferences, choose your food wisely!
Some foods use SP, or Spices! You have limited Spices to use, but these foods usually satisfy the customer more.
Collect more Utensils, which boost your proficiency with certain food types!
Buy new Attire, which raises your self confidence!
Find new recipes, which allow you to cook different meals!
STILL IN DEVELOPMENT: These are some upcoming features:

Shops: Buy new Spices, Recipes, Utensils, and Attire.
Use your SS meter (Secret Sauce) to deliver a huge punch!
Hopefully you enjoy the game! Make sure to let me know what I can do to improve the game.
-Kabenzo
| | |
| --- | --- |
| Status | In development |
| Platforms | Windows, macOS |
| Author | Kabenzo |
| Genre | Adventure, Role Playing |
| Tags | Casual, Comedy, Dystopian, Minimalist, Pixel Art, satire, Singleplayer, Third Person, Top-Down |
Install instructions
Just Download and Double-Click the game to start. Have Fun!